Back To Instructors List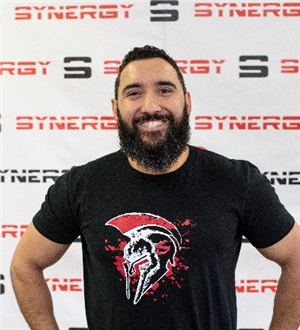 Walt
Walt G.
"You can't make chicken soup from chicken shit." <div>The point, if you're going to go after something you want, you better commit yourself to it and not half ass it!
What started your fitness journey?
I've been physically active and involved in sports my whole life. The ability to live a fit and healthy lifestyle has afforded me many opportunities of adventure and fun. I continue my fitness journey now, by sharing this lifestyle with family, friends and clients.
What led you into the industry?
I started with an interest physical therapy. I liked the idea of helping people and the active lifestyle - I saw a need and a gap in the market for personal training. There wasn't a place who offered personal training on a big scale, outside of corporate, big box gyms- and I said to myself, 'OK i need to open up a place big enough to house trainers.' Synergy began then in 2005, we became a brick and mortar location in 2007.
What does Synergy mean to you?
It's giving people the opportunity to live long healthier lives. It's an opportunity for trainers and coaches to operate as a fitness professional with services and amenities geared at helping them thrive. Synergy is a lifestyle for everyone to benefit by being a part of.
What's your favorite workout?
My favorite workouts are those that don't feel like working out at all. From hiking, to kayaking, to just enjoying a walk at the park. Working out doesn't always mean going to the gym.
How long do you workout for?
About an hour a day, I spend 45 minutes to an hour on weights and at least 20-40 min on cardio. But, as often as I can I'm playing outside.
Favorite playlist song?
Gotta say, if you're looking to get pumped up for a hearty beat down of a training session..
Cryin' Like a Bitch!! By Godsmack
Favorite class?
I'm all for some all out intensity! At Synergy, our HIIT program brings the heat, with a combination of strength, power and endurance training!
What do you love about living in Fresno? I love that we're so close to the mountains! I enjoy playing outside and every opportunity I get, I enjoy getting out into nature!
What would you encourage to someone new to working out?
Get professional accountability - hire a trainer, go to a group class - don't go at it alone if you have no experience or education in health and fitness. It's an investment in YOU!
Favorite cheat day snack?
Tacos. Actually, tacos are my EVERYDAY snack.
Waitlist