Back To Instructors List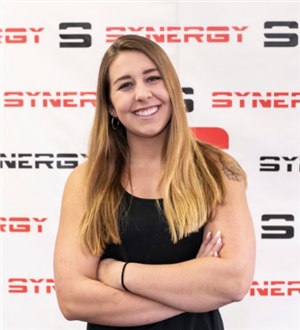 Karissa
Karissa D.
"Be the hardest worker in the room. If everyone follows that, and everyone's doing their best - everything will be good."
What started your fitness journey?
I broke my jaw when I was younger, meaning I had to find less dangerous sports to play than soccer - so naturally, I went towards a Spartan race. I began with fitness classes and really got into the training aspect, my mission became to make people stronger to prevent injury before it occurs.
What does Synergy mean to you?
To me, Synergy means a whole lot going on. At our gym, there's always so much happening but we're all working in the same direction. We all are doing our own things that we excel at, so we can offer so many different things that we're passionate about. We all have the same goal of helping people live better, longer healthier lives.
What's your favorite workout? Today, I like a combination of power training and strength training.
Favorite playlist song?
Gaspedal Rap Music
Favorite class?
I am training kids in a small group class. So, that's my favorite thing right now. I've got a wide range, kids from four years old to fifteen.
What do you love about living in Fresno? I like that we're close to the mountains, there's lakes around - it's easy to go outside and play.
What would you encourage someone new to working out to start with?
Start with a group training class, or a personal trainer, who can access where you are - give you basic form, and combine the two.
Favorite cheat day snack?
Ben & Jerry's ice cream - milk and cookies.
Waitlist