Back To Instructors List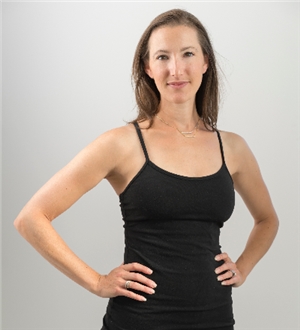 Jacqueline
Jacqueline A.
Jacqui Ambrose is a certified Pilates instructor in the Classical Method. She lives in Oak Hill with her husband, three year old son and 5 month old daughter.
Jacqui was a member of 24-time United States National Champion Synchronized Skating team, the Haydenettes from 2002-2006. She represented Team USA at 4 world championships. Jacqui was introduced to Pilates as a young athlete to increase core strength. She also used Pilates to rehab and strengthen her knee after an ACL reconstruction in 2011.
Jacqui 's favorite Pilates exercise is the Teaser on the Reformer. It combines all of the Pilates principles: Breath, Precision, Flowing Movement, Control, Centering and Concentration. She loves the challenge of the carriage moving beneath her, using the straps, all while trying to balance on the Long Box as you find a Teaser position.
Previously, Jacqui taught at the Jen McWalters studio, Performance Physical Therapy, and Contrology Physical Therapy in East Greenwich. Jacqui currently teaches at NRG Lab in Mansfield, MA. She is excited to join the CORE team!
Waitlist