Back To Instructors List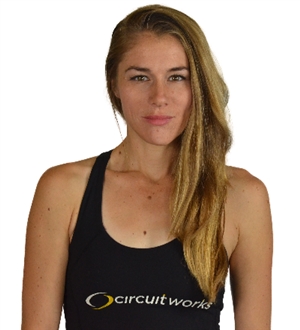 Jennifer
Jennifer
IF YOU BELIEVE, YOU CAN ACHIEVE
ALIAS: "The Riddler"
JENNIFER SCHANUTH
I was born and raised in Northern California. At a very young age, I found a love for sports. It was my dream to be a professional basketball player or compete in the Olympics for track. Recently, 16 years later, I decided I wanted to train in hopes for competing in the 2016 Olympics. I have a passion to see people succeed in every area of their life.
TRAINING PHILOSOPHY
I believe that if YOU believe in yourself, you can achieve whatever it is you want out your life. I believe fighting the good fight of a healthy lifestyle is the ultimate fulfillment.
WHAT I LOVE ABOUT CIRCUIT WORKS
I love what makes Circuit Works so electric and that is our clients and staff! The clients make time to get their workout in. Circuit Works is not an easy group class workout and they are always up for a new challenge. Passion and drive emanates out of Circuit Works, it's awesome!
FAVORITE QUOTE
"Don't stumble over something behind you."
SURPRISING FACT ABOUT ME
I was terribly shy when I was a child. When anyone would say hi to me, I would hang my head down immediately and get really quiet and not respond. You wouldn't get a peep out of me. 🙂
FAVORITE SONG
I Wanna Dance With Somebody
FAVORITE ARTIST
Whitney Houston
GUILTY PLEASURE
Cookies (especially Trader Joe's cookies).
Waitlist